It's no secret that Kenya's rivers are running dry as a result of forest destruction and environmental degradation which has led to a season of blackouts in the capital city Nairobi.
Typical of the ingenious people of Nairobi one street vendor has cashed in on the crisis with this wonderful gadget which he markets as
"Perfect for Nairobi black out"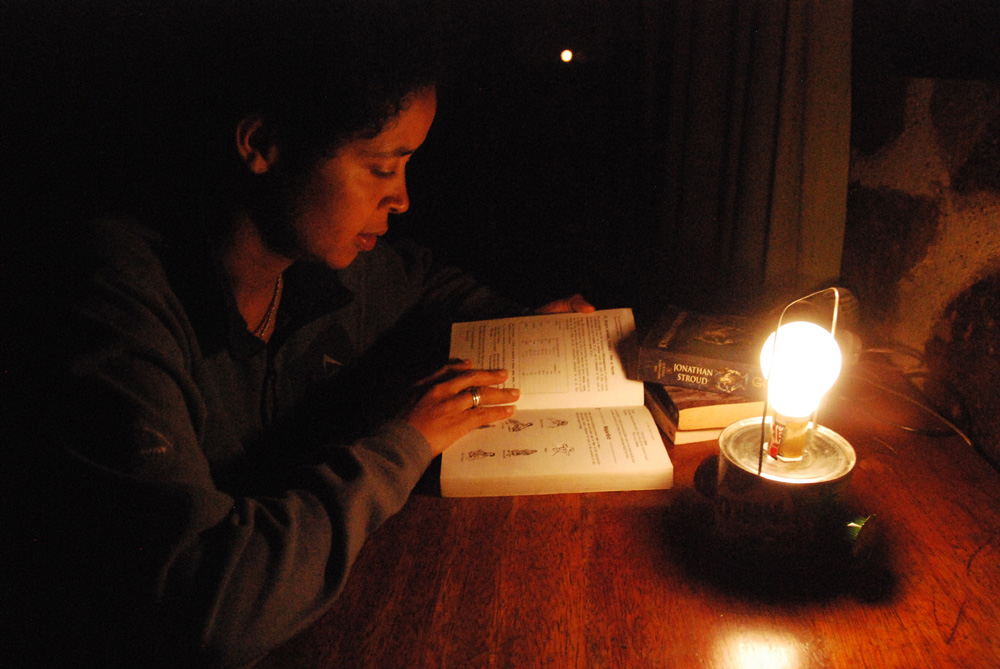 As you can see I could actually read by the light of this lamp which is made from a used tin can, some pieces of wire to make the connections
And the battery compartment is ingeniously crafted from a circle cut from a retired flip flop.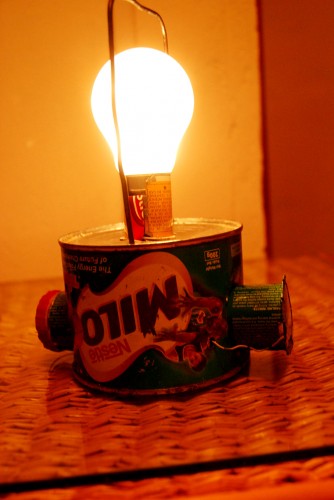 I love my juakali lamp and everyone that I know  in Nairobi needs one of these lamps. Everything about it is so true to the juakali spirit – hand crafted using colourful recycled tins, and designed for a real purpose with a handle so you can move it around from room to room or hang it up. The vendor tried to sell it to me for Ksh 350 but we settled on Ksh 200 (about $2.50) though I'm sure he would have gone cheaper but the traffic was moving and I had to go.
If you want one visit the Nyayo stadium roundabout.  They stood out amongst the chinese junk that vendors are selling you could practically kit out your house from the junk on sale there. Here's a short list of what I saw during my 30 minute traffic hold up:
Pens, hats, footballs, blow up spiderman (who needs one of these?), peanuts wrapped in newspaper cones,
smelly car things, driveres licence holding cases, scarves, giant maps, Kenya flags, apples, kits (spiderman kites),
Nike shorts, cowboy hats, socks, oanges, backpacks, cheap watches, key chains knives, olympic medals (yes I wanted one of those!),
knee length shorts for guys who sag, hazard ttriangles, cables to cack your car, name tags for meetings, torches, window wipers (!),
car mats, pears, plumbs, tiny folding chairs for children (or Chinese people?), vehicle number plates, fire extinguishers, stickers,
Enormous framed pictures of furry cats and snow leopards (I can just see one of these this in my house), bananas and bandanas, plastic lunch boxes, pillows and cussions, a huge variety of stuffed toys,
posters with Jesus' sayings, polo shirts, stearing wheel covers, spanners, screw drivers and of course my favourite – juakali lamps.
Nairobi never fails to impress. I love it. What else have you seen on sale in the Nairobi streets?