This is part of an ongoing series of posts on the FLAP bag project, a collaborative effort by Timbuk2, Portable Light and Pop!Tech. We at AfriGadget are helping to field-test these bags that have solar power and lighting on them, and get interviews of the individuals using them.
I was a little concerned when 5 of the 10 FLAP bags that I received before I left for Africa weren't assembled – just fabric, thread and electronic components. It would mean that I'd have to find tailors in each country to put them together. However, it turned out that one of my favorite parts of getting the FLAP bags to Africa has been working with the tailors.
What I end up doing is explaining the bag and how it works, then showing them the one that isn't put together and asking them if they would be willing to duplicate. If so, they can keep the bag. Then, I offer a challenge, taking the two-paneled Portable Light Kits from KVA, I then ask them if they could make something from their own materials, with their own designs, from it.
They had 2-3 days to come up with an idea, pick the fabric and create the bag. I then bought it from them for $20.
Kenya Bags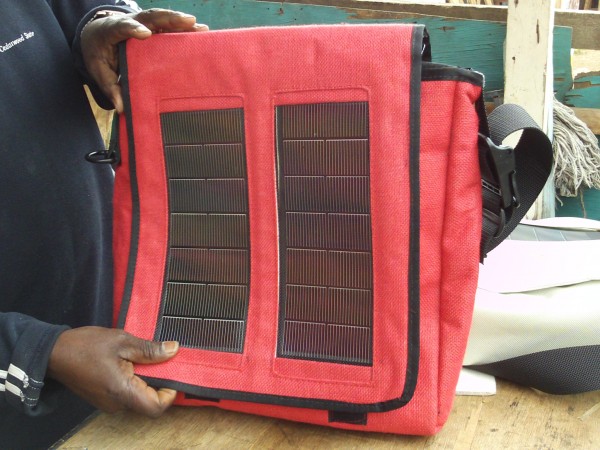 Ghana Bags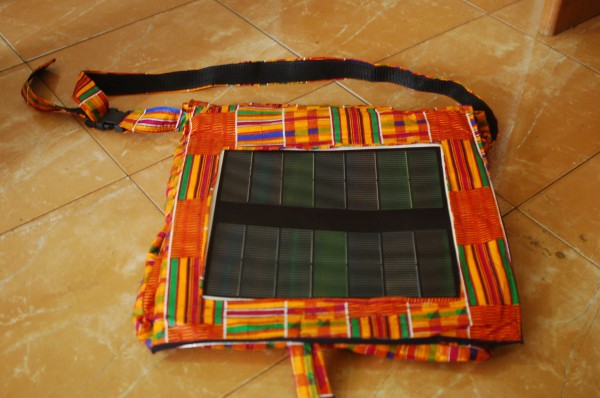 It should be noted that the gentlemen working on these had very little time to come up with their ideas and then implement them, as I was very much on the move. The local cloth use in Ghana was amazing, and I only wish the Kinte cloth (orange) one was done with real Kinte cloth instead of a print. The Kenyans used more ordinary fabric, but they were ingenious with the details around use, size and practicalities around security.
To really see the creativity at play in the Kenya bags, you have to either see them in person, or a video. Since I don't have the bandwidth for a video now, that will have to come later.