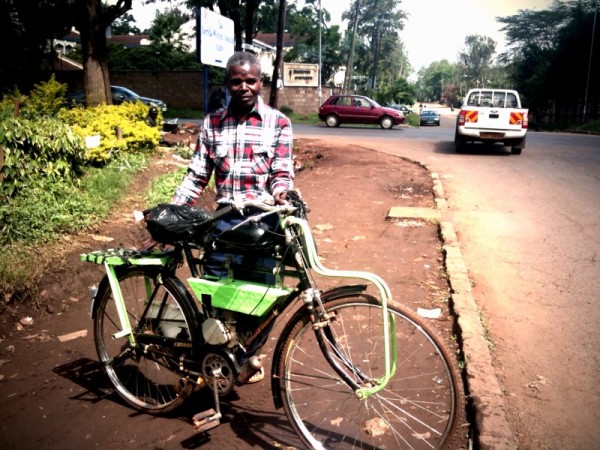 I was driving down a street in Nairobi today and did a double-take when I saw a man standing by a motorized bicycle. One u-turn (of questionable legality) later and I was chatting with Samuel Magethe, a local carpenter who does house calls. Apparently, he usually carries his toolbox and wood supplies on the back of the bicycle, though he didn't have them with him today. He has used the bike for 2 years and says that it's a great help to him as he gets older and has problems with the hills.
Motorized Bicycles in Kenya from WhiteAfrican on Vimeo.
I talked with Samuel for a while and found out that he had bought the engine and bicycle in downtown Nairobi. Since I had to go downtown anyway, I decide to hunt out the seller and see if I could get the background story on where the motors come from and the specs on them.
It turns out that the engines, and bicycles, are imported from the ADTEC Corporation in Japan. (As an aside, it appears that Adtec motorcycles are part of the big influx of Asian motorcycles being used as taxis in E. Africa.) It's a 48cc 2-stroke engine that has a top speed of 40Kph (25mph). The tank can hold 2 litres of fuel and they claim that it gets 70 kilometres per litre.
You can buy the bicycle plus engine for 15,000 Ksh ($200) or just the motor for 10,000 Ksh ($135).
The company that sells them in Kenya, Adventure Technology Company Ltd, has their main office in downtown Nairobi, where they had their last two bikes that weren't sold. In 2009 they imported 500 bicycles and sold them in their 13 branches across the country. The branch manager, Julius Lumumba, tells me it's a good business, and they sell very quickly – especially up country in places like Kakamega, Bunguma and Kisumu.
[Note: I forgot my cameras today, so I just had my iPhone to do the pictures/video with, thus the lower-res, sorry.]