Google Earth is one way to appreciate the crush in Kibera, Africa's largest slum. Not surprisingly popular images of people living in desperate conditions aren't far from the truth when it comes to this corner of Nairobi – but out of the madness comes a little hope.
I witnessed some amazing innovations in Kibera and conclude that people have adjusted to their situation and are making the most of it.  Because of the stress associated with limitations on land, energy, water, and food the people have found innovative ways of surviving. This post is mainly about farming.
Vertical farming
like this guy and his vertical garden which feeds his family and he even sells some produce. It's a variation on what JKE wrote about in the post on Keyhole gardens in Botswana.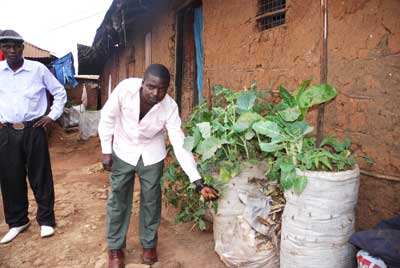 Finding land in rubbish
Now a local organic farming company Green Dreams has been documenting the progress of transforming a garbage dump to an organic farm on the Green Dreams blog. They are working with a local youth group comprising reformed criminals in converting garbage into organic manure, and garbage dumps into organic farms.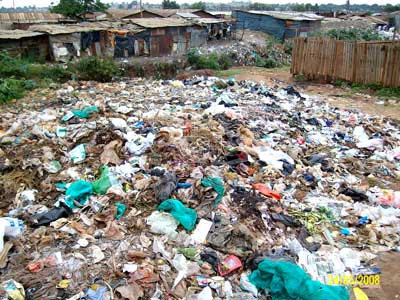 Irrigation taps the mains water and supplies nutrient rich feeds from organic fertilizer produced on the site from crops and worms, yes they harvested local earthworms to start vermiculture.
Check out the planting implements, a PVC Pipe adapted to deliver seeds into a perfectly dug hole!  This was invented to help with the back breaking work of planting.
After 3 months the community of 30 families were harvesting, eating and selling organic produce. Yum! Impossible to ignore how a dirty dump turned green, everyone wants a farm in Kibera now. This group is now selling their expertise to raise funds and help others.
Natural Bean Tenderizer
There was a smouldering fire where banana leaves were being reduced to ash, then the ash dissolved in water and the brown murky astringent solution sold for Ksh 50 ($.80) per 250 ml in vodka bottles! This is a bean tenderizer reducing the time to boil red kidney beans by 50%! Imagine the savings on charcoal/fuel.
Safe Dispensing of Fuel
Notice that there was no protection around the farm or it's equipment. Apparently the reputation of these 'reformed criminals' is enough of a deterrent.
Life might be hard in Kibera but yet when you visit you can't ignore the vibrancy, colorfulness, camaraderie amongst the inhabitants it was one time that I got the feeling that people here love life