On a recent trip to the worlds greatest natural wonder (well, ok, one of!), the wilderbeeste migration in the Masai Mara, we had the pleasure of discovering an extraordinary bush vehicle repair outfitters in the lovely slum village of Talek, after our extortionately expensive rental car suffered from not one, but three flat tyres.
If you haven't been to the Mara during the spectacular migration, then you might find it hard to imagine our frustration – try rousing 5 kids and 4 adults at 5 am, pack them and lunch and head off to the Mara River to witness for the first time in our lives, the crossing of thousands of wilderbeeste, zebra, gazelles, lions, – images of crocodiles leaping for the bleating calves … adrenaline racing with anticipation…..and then "poof", a flat, right at the edge of the Mara reserve.
No big deal right – just change the tyre and continue. Five minutes delay? No, 3 hours later,  we're screaming at the rental agent because the key for the spare tyre's lock does not work! Aaarrrggghhhh
With second car we head to Talek hardly expecting to find an outfitter who can repair tubeless tyres.
This is what we found.
A modified wheel barrow full of silty water and a bit of detergent to find the holes. We stopped counting a  15 – it was very depressing! I don't even remember  going over a thorn bush either!Should have been my first warning – these tyres were seriously worn and thin.
The air compressor system comprised a tank and engine and a compressor unit – the last part was an adaptation from an airconditioning unit off a vehicle! Very creative.

In the end we had to opt for converting a tubeless tyre into a tube tyre – and this is the gizmo that was used to remove the tyre. It was completely home made and very effective. We found an old inner tube with just about the right dimensions at one of the tented camps, 350 shillings and 3 hours later we were on the road again!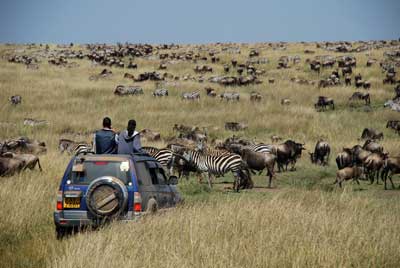 It was well worth the hell to get to the crossing point – and of course this is where we experienced puncture no. 2! Crazy place for a puncture as you aren't allowed to step out of your car while animals are crossing. Hours later It was back to Talek jua kali puncture repair for us!
After 3 days of stunning experiences we headed back to Nairobi on what may easily be described as the worlds worst road. That was where the new tubed tyre went totally bezerk on us and exploded ripping the tube completely in half! Turns out the tyres were so worn that the wires in the tyre  simply ripped the tube open. Nice one!
We discovered that the spare lock could be opened with a good whack! with a tyre spanner and off the lock fell. Away we went.
Words of advice to anyone renting a 4×4 to go on a major trek to Mara or anywhere in Kenya – check everything  before you go, take rental company managers personal cell no with and make sure you have credit and full phone charge, take a second car if you can, and a fundi (without my brother I'd probably still be on the road side – thanks a million Dom!). Despite the annoying hassles of the rental car and the unbelievable road, the trip was well worth it. I refused to pay for the lost day and was so glad to see the back of that damn rental car – the agency didn't quarrel.  Gonna buy my own safari car now.