The responsibility of collecting clean water n Africa often falls on children. This limits their opportunity for education and a higher quality of life as they can spend hours walking to and from the clean water source. Equally important is that it leaves no time for FUN and play which are both vital to child's healthy development. PlayPump is one innovate solution to the question of how to supply clean drinking water to African villages using children while at the same time contributing to their healthy and positive development. It's a simple idea. As children spin on a merry-go-round, water pumps from below the ground. It is stored in a tank just a few feet away, making a safe, plentiful supply of water available in the community.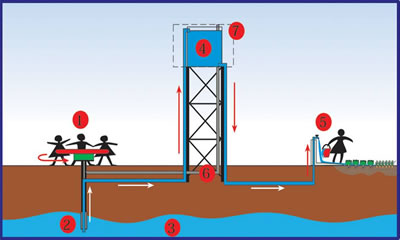 While children have fun spinning on the Playpump (1), clean water is pumped (2) from underground (3) into a 2,500-liter tank (4), standing seven meters above the ground. A simple tap (5) makes it easy for women and children to draw water. Excess water is diverted from the storage tank back down into the borehole (6). The water storage tank (7) provides a rare opportunity to advertise in rural communities. All four sides of the tank are leased as billboards, with two sides for consumer advertising and the other two sides for health and educational messages. The revenue generated by this unique model pays for pump maintenance.
For more information please visit the Playpumps website.