When you visit Diani Beach, Kenya's version the Florida keys, look up and you'll see 20 rope bridges swinging over the highway – what's that little bulge with a tail? Before you flash by, you will realise that it's a monkey sitting up there. Yes it's watching you! And then, a burst of action as an entire troop of black and white might start galloping across the wildly swaying bridge!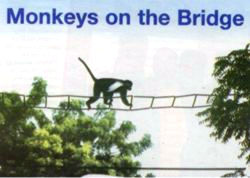 Colobridges were built by the Colobus Trust to save the rare Angolan colobus monkeys from road traffic accidents
Faced with a crisis that could eliminate the species in Kenya, innovative solutions were tried from Lollipop stick men at major monkey crossing points, roadsigns to slow down the speed, and education for taxis, stickers in matatus (local buses).
The bridges were the most successful. Designed locally and made of cable, rubber and PVC, each bridge takes a day to erect and costs about $500. The bridges connect two of the monkeys favourite trees on either side of the highway.
Being naturally shy, the colobus initially stared at the bridges gadgets with disdain until the more inquisitive and daring Sykes monkey began to see the logic. Once the Sykes and even vervet monkeys started using the bridges, the colobus followed suit, and are now very comfortable with their arboreal walkways.
This is an Amazing video of Colobus crossing a "colobridge" (Warning this video is GREAT but the link take you to another site – so read on first or you"ll miss the Australian madness)
There are now 23 'Colobridges' and it's estimated that they are used 150,000 time a year by at least three different species of monkeys! Amazing because there are only 300 of these Angolan colobus monkeys left in Diani where road kills are now rare.
Not for everyone: Bridges have also been deployed in Zanzibar to save the crazy looking Kirks red colobus but it looks like they aren't clever enough to use them (some species are just slow)! Check out the photos of a confused monkey here

My plug for my favourite primate "Hug a colobus today".
Colobridges go global or 'Australia steals our African ideas': Though they don't admit it, the "colobridge" innovation inspired rope bridges to save freaky creatures in Australia too
Of course the Aussies always do things bigger and better… check this one out!