Deep in Kariokor, a slum and a hub of Nairobi's juakali leather industry, you can't miss spotting Drogba hard at work at his home made leather press.
Drogba's leather press is an assembly of diverse components.
The fly wheels are made up of two used conveyor pulleys full of concrete. These are joined together by two used second hand vehicle half shafts.
The half shafts are connected to an old bench vice screw (hope you are singing along here)
The screw is connected to a press foot
(all together now) "Oh hear the world of the lord" (tune of the kids song Dry Bones)
The print plates are placed on the base of the press frame.
When Drogba spins the fly wheels, he sandwiches the leather between the press plate and press foot producing perfect permanent imprints in the leather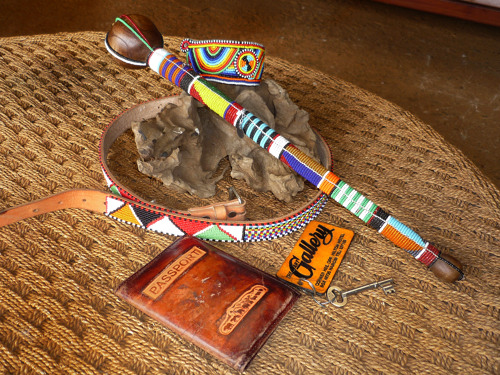 This method is used for most of Kenya's printed leather products, a huge industry that includes Maasai beaded belts, menu covers, wallets, passport holders, belts, key holders, coasters, handbags, purses, and many fashion accessories and leather souvenir products.
Drogba is 18 years old and works a good 12 hours per day on a casual wage. He has just completed high school and is looking for a college placement.  As you can imagine, he's a huge fan of his soccer celebrity lookalike and namesake.
(special thanks to Dominic Wanjihia for this contribution)