Yahoo! News (among other sources) carries a story from October 21st about Mubarak Muhammad Abdullahi of the Kano Plains of Nigeria who has built a working helicopter over the last 8 months using scrap aluminum and parts from a Honda Civic, an old Toyota and from the remains of a crashed Boeing 747.
This inventor has had no formal training in flying and his helicopter has never flown higher than 7 feet of the ground. In an interview, he talks about how the machine works: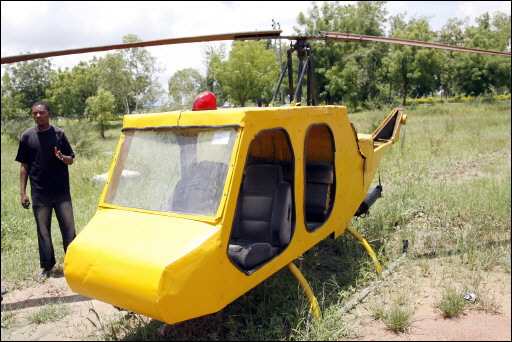 "You start it, allow it to run for a minute or two and you then shift the accelerator forward and the propeller on top begins to spin. The further you shift the accelerator the faster it goes and once you reach 300 rmp you press the joystick and it takes off,"
Mubarak is ambitious however and has embarked on a new project to build a better helicopter that will be able to make 3 hour flights. He hopes to get support for his project from the Nigeria Civil Aviation Authority (NCAA) and other Nigerian government bodies.